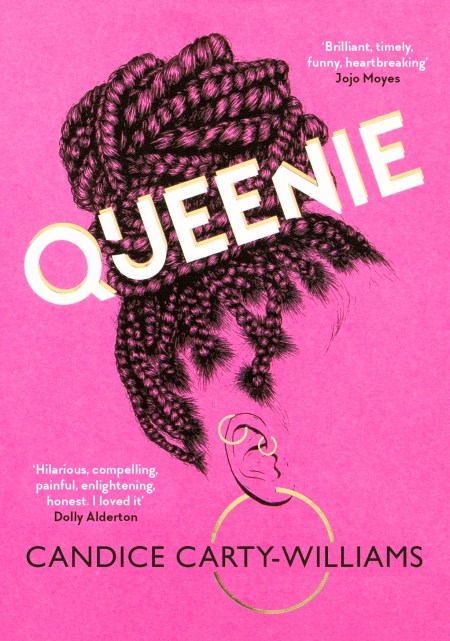 Queenie

THE NUMBER TWO SUNDAY TIMES BESTSELLER

'Hilarious, compelling, painful, enlightening, honest. I loved it.' – Dolly Alderton
'Brilliant, timely, funny, heartbreaking' – Jojo Moyes
'A vital, often very funny novel' – The Sunday Times
'Inspirational, funny and wise' – Kit de Waal
'Perfect for anyone who loves Fleabag' – Mail on Sunday

Queenie Jenkins can't cut a break. Well, apart from the one from her long term boyfriend, Tom. That's definitely just a break though. Definitely not a break up. Then there's her boss who doesn't seem to see her and her Caribbean family who don't seem to listen (if it's not Jesus or water rates, they're not interested). She's trying to fit in two worlds that don't really understand her. It's no wonder she's struggling.

She was named to be queen of everything. So why is she finding it so hard to rule her own life?

A darkly comic and bitingly subversive take on life, love, race and family, QUEENIE will have you nodding in recognition, crying in solidarity, and rooting for this unforgettable character every step of the way.

Perfect for fans of Dolly Alderton, Elizabeth Day, Sally Rooney and Diana Evans, and anyone who loved Fleabag.

********

Praise for QUEENIE:

'I was engrossed and loved Queenie – her humour, her pain, her politics, her friends, her family.' – Diana Evans

'Candice gives so generously with her joy, pain and humour, that we cannot help but become fully immersed in the life of Queenie – a beautiful and compelling book.' – Afua Hirsch

*This book has been printed with three different colour cover designs. We are unable to accept requests for a specific cover. The different covers will be assigned to orders at random*

Read More
Reviews
This topical, timely debut's bracing frankness has a blazing purpose... vital and often funny
Queenie has all the things you want in a debut novel - a startlingly fresh voice, characters you fall in love with from the very first page, and a joyous turn of phrase that makes this book almost impossible to put down. In turns hilariously funny and quietly devastating, Queenie is an important, timely story.
We are irresistibly drawn into Queenie's world by a romcom which is wry and often hilarious.
Queenie is the sort of novel you just can't stop talking about and want everyone you know to read. Snort your tea out funny one moment and utterly heart-breaking the next ... I absolutely loved it
The plot spoke to my soul...Queenie's journey as a millennial is relatable on so many levels. I'm so besotted with [Queenie] that I'm heavily delaying finding out how this enchanting tale ends. It'll be a bittersweet day when it finally arrives.
Brilliant, timely, funny, heartbreaking
Hilarious, compelling, painful, enlightening, honest. I loved it.
A delight from start to finish... a little bit of Fleabag but less double-barrelled and more relatable
perfect for anyone who loved Fleabag
I ate this up in one greedy, joyous gulp. I loved Queenie and was cheering her on all the way
Adorable, funny, heartbreaking
One of the buzziest debuts of 2019
Candice Carty-Williams is a fantastic new writer who has written a deliciously funny, characterful, topical and thrilling novel for our times.
Incredibly funny, this is the book that everyone will be talking about.
I enjoyed Queenie a lot; sharp, relatable, and incredibly evocative
Candice Carty Williams is my new favourite writer and she will be yours, too...I needed this book in my early twenties. I have never felt so seen in fiction. My heart is full.
Queenie is the best mate we all want - funny, sharp and more than a little vulnerable. I loved climbing inside her mind and wish I could have stayed longer. I adored this novel
This is an important, timely and disarming novel, thirst-quenching and long overdue: one that will be treasured by "any type of black girl" and hordes of other readers besides.
A blistering blend of funny, filthy, frank and dark, this is the mark of a true voice at work.
Filled with raw emotion tempered with wry humour, this debut is bitter-sweet.
Hilarious and off the wall and tender
I was engrossed and loved Queenie - her humour, her pain, her politics, her friends, her family!
Candice gives so generously with her joy, pain and humour ... a beautiful and compelling book
This debut is original, heart-breaking, funny and clever, and also carries many important messages... [this] book blew my mind in all the best ways. I'm still rooting for Queenie long after turning the final page.
Queenie is a masterclass in how to write accessible political fiction about race and gender. Funny, relatable, sad, and hopeful; Candice Carty-Williams is a writer to watch.
A black Bridget Jones, perfectly of the moment.
We are irresistibly drawn into Queenie's world by this fresh romcom which is wry and often hilarious, even when it goes to some dark places.
This is an amazing novel about what it means to be a black girl whose world is falling apart and needs to find the strength to put it back together
Smart, thoughtful and funny
Original, heart-breaking, funny and clever
This smart, funny, and tender debut embraces a modern woman's messiness.
[A] smart and breezy comic debut
A candid and funny, no-holds-barred exploration of a young black Woman's life... Carty- Williams is a talented writer with a fresh perspective that the publishing industry desperately needs. Joyous, memorable and necessary.
This is a funny, clever, heartbreaking lightning bolt of a first novel, by a writer bristling with talent.
Funny, wise and of the moment, this book and this writer are the ones to watch
This year welcomes Candice Carty-Williams to the literary scene. In 2016, best-selling author Jojo Moyes offered the use of her rural cottage to a wannabe novelist trying to finish a book; she selected Candice from more than 600 applicants.
A really special book with much to say about black female identity, sexual politics, group chats & emotional becoming in a way that feels totally unforced. Filthy, funny & profound