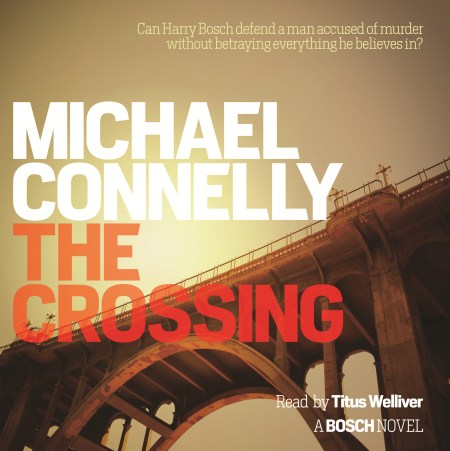 The Crossing
Six months ago, Harry Bosch left the LAPD before they could fire him, and then hired maverick Defense Attorney Mickey Haller to sue the department for forcing him out. Although it wasn't the way he wanted to go, Harry has to admit that being out of the game has its benefits. Until Mickey asks him to help on one of his cases, and suddenly Harry is back where he belongs, right in the centre of a particularly puzzling murder mystery. The difference is, this time Harry is working for the defense, aiming to prevent the accused, Da'Quan Foster, from being convicted. And not only does the prosecution seem to have a cast-iron case, but having crossed over to 'the dark side' as his former colleagues would put it, Harry is in danger of betraying the very principles he's lived by his whole career.

Read by the star of BOSCH, Titus Welliver

(p) 2015 Hachette Audio
Read More
Reviews
As ever, Connelly's produced a solid police procedural, gripping right to the end.
Michael Connelly justified the stellar success of his Harry Bosch stories by breathing new life into the series in its 18th instalment THE CROSSING.
It's jaw-dropping that after 27 bestsellers he's still scaling new heights with every book, and this one is a double delight because it features both detective Harry Bosch and his half-brother, ducking and diving defence lawyer Mickey Haller.
Fast detective action is skilfully interwoven with courtroom pyrotechnics.
When Michael Connelly is on form, as he is with The Crossing, he is irresistible.
Intensely satisfying and featuring two of the smartest creations in modern crime fiction, this is as elegant a masterpiece as Connelly has delivered.
Connelly spins an intricate web in this brilliant anti-police procedural.
All sorts of lines are crossed in a brilliant and complex story set against the parched paradise of Los Angeles.
Enter Harry Bosch, one of the finest minds in crime fiction. He understands the trajectories of bullets and also political careers. Connelly loves to watch him think, and so do I.