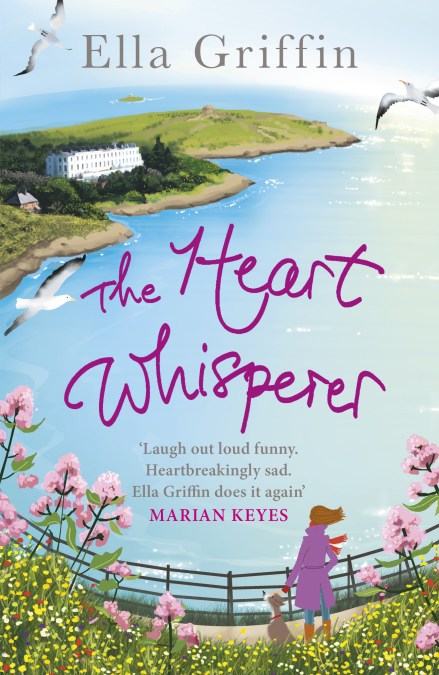 The Heart Whisperer
'Laugh out loud funny. Heartbreakingly sad. Ella Griffin does it again' Marian Keyes


Claire Dillon lives in the shadow of the past – until she gives herself one year to change her future…

At thirty-three, Claire's mother had everything to live for. But she died in a tragic accident. And it was her daughter's fault. Now Claire is the same age. A floundering actress with a broken heart. Her life is going nowhere in the company of her gorgeous best friend, ex-rock star, Ray Devine.

Her estranged brother, Nick, is back from America with his perfect wife. But Dublin is full of dark memories and he is already planning his escape.

What will happen when another accident throws brother and sister together and a lifetime of secrets come to light?

A heartwarming story of love and loss from the author of The Memory Shop – perfect for fans of Marian Keyes, Jenny Colgan and Emma Hannigan

***

'A touching story that reminds us all that love's never as simple as it sounds' Woman

'This thrilling story of romance and deceit is too good to put down' Closer

'Crackling with wonderful dialogue and Irish wit. A funny and moving story that will capture your heart and hold onto it 'til the very last page' Cathy Kelly
Read More
Reviews
A fresh, funny new voice. Ella Griffin can make you laugh and then cry in the turn of a page.
As debut novels go this is one stomping entry into the world of storytelling. Like all good romcoms, Postcards from the Heart is a love story with a twist, but its also got the added element of wit, humour and the odd tear here and there. A fabulous read.
Following the lives of four thirty-something friends, it has all the elements of great chick-lit: think the humour of Marian Keyes, the warmth of Cathy Kelly, with just a sprinkling of Jackie Collins naughtiness thrown in for good measure.
A touching story that reminds us all that love's never as simple as it sounds.
packed with characters, plot twists and humorous incident ... a journey on which many readers will be happily swept away
Written with warmth and humour Irish authors appear so good at
A brilliant read which I found it hard to put down.
A smart portrayal of four friends' efforts to find a path through the undergrowth of thirtysomething life.
Ella Griffin's hugely enjoyable debut ... deftly mixes light and shade, humour and conflict ... like Allison Pearson in I don't know how She Does It, Griffin puts a fresh spin on the having-it-all conundrum of juggling relationships and caring from children and parents with the demands of a career.
'A funny, zany romp through the glitzier side of Dublin'
This thrilling story of romance and deceit is too good to put down.
'A brilliant debut novel' (4 stars)