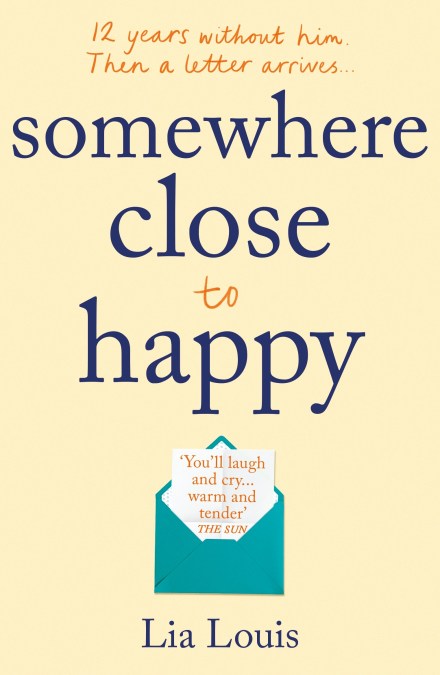 Somewhere Close to Happy
'A wonderfully written, funny and moving debut with an intriguing mystery at its heart… Unforgettable.' – Sunday Times bestselling author,
Claire Douglas

Lizzie James is happy.

She has a steady office job (with a steady stream of snacks), has had the same best friend since school, and she sees her family every Thursday night for take-away and trashy TV. Lizzie likes her uncomplicated life.

Then a letter arrives one day from her first love, Roman. A letter dated the day he disappeared, 12 years before. As Lizzie uncovers the secrets of the letter, she discovers what really happened the year her life fell apart – and all avenues lead back to Roman.

Lizzie James thought she was happy, or somewhere close to happy, anyway. Now she's not so sure.

'A funny and heart-warming story of first loves and the importance of friendship, but also a moving and wise exploration of mental health, childhood, self-discovery and – ultimately – the importance of being brave.' – Sunday Times bestselling author, Gillian McAllister

*Perfect for fans of Giovanna Fletcher, Mhairi McFarlane and Cecelia Ahern and Kate Eberlen's Miss You. This is a novel you won't soon forget.*
Read More
Reviews
Lia Louis could give PS I Love You author Cecilia Ahern a run for her money with this funny and moving debut.
Oh my god, I LOVED Somewhere Close to Happy. It made me cry several times but was also really funny. It is so incredibly good.
Beautiful, raw, emotional, gripping. Roman and Lizzie will burrow into your hearts and never leave.
I loved it. I want more. It is just exquisitely written. So tender and packed with emotion but also great humour. It deserves to soar.
Told with warmth, this is an enjoyable, bittersweet page-turner.
You'll laugh, you'll cry and you'll love this warm and tender story.
This book is beautiful. The writing is generous and kind and funny. I fell in love with the story and the characters, it made me feel hopeful, and I cried. Lia is such a talented, wonderful writer.
Honest and brave, Somewhere Close to Happy is a thought-provoking, beautifully observed study of love and real life, social issues and mental health
I thought it was both a funny and heart-warming story... Louis's is a bold, standout voice in the women's fiction genre and Somewhere Close To Happy deserves to be huge.
A wonderfully written, funny and moving debut with an intriguing mystery at its heart. I laughed, cried and was completely swept away by Lizzy and Roman's story. Unforgettable.
In her protagonist Lizzie, Lia has created a character whose journey and emotional depth is a triumph.
Lia is one of those rare writers who manage to break your heart and mend it all at once. Somewhere Close to Happy is a gem of a book - funny, touching and true