Seven Dials acquires Emily Atack's heartwarming and hilarious first book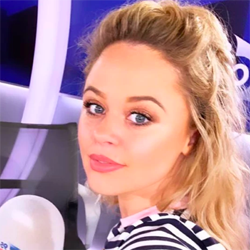 Emily Barrett, Commissioning Editor, Seven Dials and Orion Spring, Orion Publishing Group, has acquired world rights from Alex Segal at InterTalent Right Group to ARE WE THERE YET?, the first book by actress Emily Atack who became the nation's sweetheart on I'm a Celebrity at the end of last year. The book will publish in October 2019.
Emily Atack was flung to fame at just 17, as the girl-next-door character in The Inbetweeners. Almost ten years later, she won over the nation on I'm a Celebrity . . . Get Me out of Here! with her cracking impersonations, epic bravery in the Bushtucker trials and general positivity.
Now, in her first book, Emily digs deep and reveals the hilarious highs and the heart-breaking lows that rocked the years between. With astonishing courage and her trade-mark humour, she shares stories about her family, first dates (and bad dates), loves and relationships, moments where she's hit rock bottom and how she finally came to realise that it was all going to be okay. ARE WE THERE YET? is a warm, honest, funny book for women of any age who have ever felt they needed to look a certain way or have felt uncomfortable in their own skin. It's about life, love, everything grubby and glamorous in between, and ultimately realising that you're good enough.
Emily Barrett, Commissioning Editor, said: 'We're very privileged at Seven Dials and Orion Spring to publish some of the loveliest and most empowering female celebrities in the business and I'm delighted that Emily is joining the party. I could listen to Emily all day: she's such a breath of fresh air – she tells it like it is, she's gloriously funny and she's certainly not afraid to talk about the sadder things that have happened to her if she thinks it will benefit other girls and women to hear it. One of my favourite books last year was Dolly Alderton's Everything I Know About Love and this has echoes of that in it, but from a different background and point of view. I know Emily's huge fanbase are going to love it and I hope they find it as big-hearted and empowering as I have done working on it.'
Emily Atack said: 'Putting pen to paper to create ARE WE THERE YET? has been one of the most therapeutic things I've done in a very long time. I hope to create a funny and honest book that takes a look at this tricky little bit of life that so many of my friends and family have found tough, funny, heartbreaking, joyous and at times absolutely knackering. Thirty is just around the corner and this is my final love letter to my life that has come before it.'