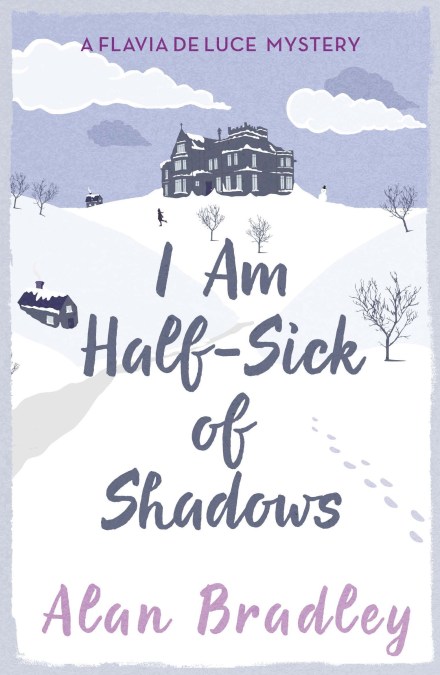 I Am Half-Sick of Shadows
In the deep midwinter, there's a murder to solve…


Christmas is coming and the snow is falling, but with the de Luce family finances in a parlous state, Colonel de Luce has been forced to rent out the family home to a film company.

For Flavia and her sisters it's as if all their belated Christmases have come at once – but filming is soon slowed by a series of nasty accidents and then brought to a halt as a heavy snowstorm cuts Buckshaw off from the outside world.

As they prepare to wait out the weather, they are stunned by a gruesomely dramatic murder – and suddenly Flavia, in the midst of designing an experiment to prove the existence of Father Christmas – has another, far deadlier mystery to solve.

Praise for the historical Flavia de Luce mysteries:
'The Flavia de Luce novels are now a cult favourite' Mail on Sunday

'A cross between Dodie Smith's I Capture The Castle and the Addams family…delightfully entertaining' Guardian

Fans of M. C. Beaton's Agatha Raisin, Frances Brody and Alexander McCall Smith will enjoy the Flavia de Luce mysteries:
1. Sweetness at the Bottom of the Pie
2. The Weed That Strings the Hangman's Bag
3. A Red Herring Without Mustard
4. I Am Half Sick of Shadows
5. Speaking From Among the Bones
6. The Dead in Their Vaulted Arches
7. As Chimney Sweepers Come To Dust
8. Thrice the Brinded Cat Hath Mew'd
9. The Grave's a Fine and Private Place

If you're looking for a cosy crime series to keep you hooked then look no further than the Flavia de Luce mysteries.

* Each Flavia de Luce mystery can be read as a standalone or in series order *
Read More
Reviews
At once precocious and endearing. Flavia is a marvellous character. Quirkily appealing, this is definitely a crime novel with a difference
This is the fourth murder mystery for eleven year old sleuth, master chemist and expert on poisons, Flavia de Luce. While her father is preoccupied with a deepening financial crisis, and her sisters continue to outdo one another in beastliness to their younger sibling, the undaunted Flavia brings her keen eye and sharp mind to all that's' going on around her.
Flavia is mercilessly addictive
Engaging, entertaining, bright and breezy; and above all, great fun!
[T]his breezily entertaining novel set in 1950s England both lives up to its predecessors and points the way to momentous events in the next book. Great fun!
Hilarious, eccentric and mischievous
A breath of fresh air to the world of period-piece sleuthing
Certain to become a national treasure
Praise for the cosy crime Flavia de Luce Mysteries - perfect for fans of Agatha Christie and Midsomer Murders: The Flavia de Luce novels are now a cult favourite
A clever, witty and totally gripping read with lots of surprises
Delightfully entertaining
It's like entering the lost world of the Mitford sisters where the girls are allowed to run completely wild